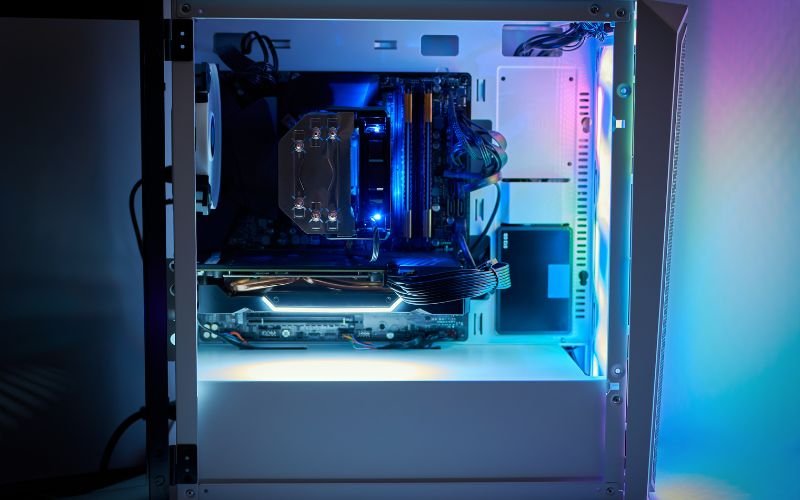 Guide to Build a perfect Gaming PC in 2023
Building a top-notch gaming PC means going through a list of latest gears and hardware to find the best as per your needs and wants.
Choosing the correct parts to construct a stylish gaming PC may seem difficult at first, but once you get started, you'll discover that it's not only shockingly easy, but also a lot of fun. The article will help to with some fundamental information you must have to identify the top necessary components.
What are the major things to keep in mind while building a Gaming PC
Building a gaming PC is easy, fun yet a process that requires careful research and brainstorming. These are the important things related to each component you as a buyer must keep in mind:
CPU
The CPU act as a powerhouse your computer as it setup the performance for overall system. The processor's speed increases with increasing GHz. However, higher GHz speeds also indicate that the CPU uses more energy, which means systems need stronger cooling mechanisms.
Intel and AMD are the two main companies when it comes to CPUs. Within those two brands, there are several options. For a no-lag quality experience gaming, the minimum requirement is to have atleast a Ryzen 7000 in AMD or 12th (13th is also launched and preferable) Generation Intel Core i5.
GPU
Your gaming experience will largely depend on Graphics Processing Unit (GPU). PC's ability to do intricate graphics computations makes modern high graphics enabled PC games appear so amazing.
AMD and Nvidia are the two leading companies in the graphics card industry. You may choose any of it like as the GeForce RTX 40 series or even 30 will work from Nvidia or the Radeon RX series from AMD, depending on how much you can afford but ideally you should invest well in this peripheral.
The current king of consumer-facing GPUs is Nvidia's RTX 40 series for a marvellous gaming experience.
Irrespective of budget or company, you must have atleast 6GB GPU memory for your top gaming PC
Note: CPU & GPU must balance each other or the PC will suffer GPU or CPU bottleneck. Bottleneck is a technical term used when one component of a PC is performing better than other which results in poor performance of overall system like pixelating, lower FPS issues etc.
Ram
Random Access Memory (RAM) maintains frequently used data close at hand so that your PC won't need to visit a storage device each time you need to utilise that data.
The more RAM the better, in this case. Although you really can't have too much RAM, most gaming systems will work just fine with 16GB, or 32GB if you want to keep your PC running for years.
But when it comes to speed, DDR4 are recommended that begins with 1600 Mhz and goes upto 3600Mhz. Now DD55 is also coming in markets that supports speed of upto 5000MHz. You can go with any of these as per your budget.
Storage
Hard disc drives (HDDs) predominated in storage previously, but solid state drives (SSDs) are now more commonly accessible. SSDs cost more per gigabyte but are also substantially quicker, quieter, and more robust. SSDs are a must have storage preference for any gaming PC.
Samsung and WD are some of the top players in SSD.
Cabinet Case
You may buy cabinet cases in almost any size you can think of because they are one of the PC components that can be customised the most. Even though each case is unique and cool, they are all made to fit nearly the same parts, hence they all similar physical design. Buy any design you find cool but keep in mind that it should have a room for cooling ventilation system.
Cooling is crucial aspect to take into account when it comes to Cabinet casings. Many cases will already have fans installed, which is convenient, but if maintaining low temperatures is vital to you, you should make sure there is space for the cooling system. Experts suggest preferring a big sized cabinet cases for better ventilation in the system.
PSU (Power Supply Unit)
The Power Supply Unit (PSU), is enables necessary power supply for the system to run smoothly. Make sure your PSU's power capacity is adequate especially if you want to use high-end video cards.
Motherboard
You might be wondering why we didn't mention the motherboard right? So actually, the motherboard highly depends on the CPU you are using. Asus, Gigabyte, MSI are all reliable for motherboards but the configuration is decided as per the CPU generation, vendor, architecture etc.
Are you still confused about the ideal configuration of your next gaming PC?
Here is the list of 3 best gaming PC recommended by our experts, you can buy them from Amaozn directly:
Electrobot Gaming Tower PC at Rs. 78,999
HP Victus 15L Gaming Desktop PC with Latest 12th Gen Intel Core i5-12400F at Rs. 83499
Lenovo Legion Tower 5 Gaming Desktop at Rs. 1,14,999
Checkout the best laptops under Rs. 50,000 for office use