Best Laptops under Rs. 50000: HP 15s EQ2144AU Ryzen 5 review
Tired of looking for a good laptop under Rs. 50000? Don't worry our experts will help you with an ideal match for your tech and office needs by suggesting one of the best affordable laptop for all your college or office needs. In the last blog of the best laptop series, we reviewed Asus Vivobook 14 which is also one of top 10 Laptops in this range. Today we are adding another gem to this series with HP 15s- Ryzen 5-5500U
Price of HP 15s- Ryzen 5-5500U laptop: ₹. 44,900
Overall Review and Rating of HP 15s- Ryzen 5-5500U: 8.1/10
Stylish look, affordable laptop with quality graphics and performance with an AMD chipset
The HP 15s- Ryzen 5-5500U laptop is the great choice if you are a fan of AMD CPUs and want a quality laptop under Rs 50,000. AMD CPUs became a popular choice after the launch of Ryzen series for because they are typically less expensive than Intel counterparts while yet providing comparable performance. With a maximum boost rate of 4GHz, the AMD Hexa Core Ryzen 5 5500U processor powers this version of the HP Ryzen 5 laptop. For quick transfer rates, startup and load times, there is also 8GB of DDR4 RAM inside paired with a 512GB SSD. A lighted keyboard is also included. This laptop weighs only 1.69 kg, which makes it lightweight and convenient to take around on a regular basis. The laptop also has an ergonomic lift design that lets more air move through and keeps the gadget cool.
Display
Equipped with a 15.6-inch FHD display that allows you to enjoy watching videos and playing games in high definition and full clarity. This laptop is a perfect choice for modern tech-savy individuals. Enhance your experience with rich sound and hear every detail with crystal clear audio quality to take your entertainment to another level. It has a diagonal anti-glare display with a micro-edge design, a resolution of 1920 x 1080 pixels, and a brightness of 250 nits with 141 ppi resolution and an AMD Radeon Graphics
Some users say that display is not very excellent but it is fine to have. So we are taking it as one negative point
Processor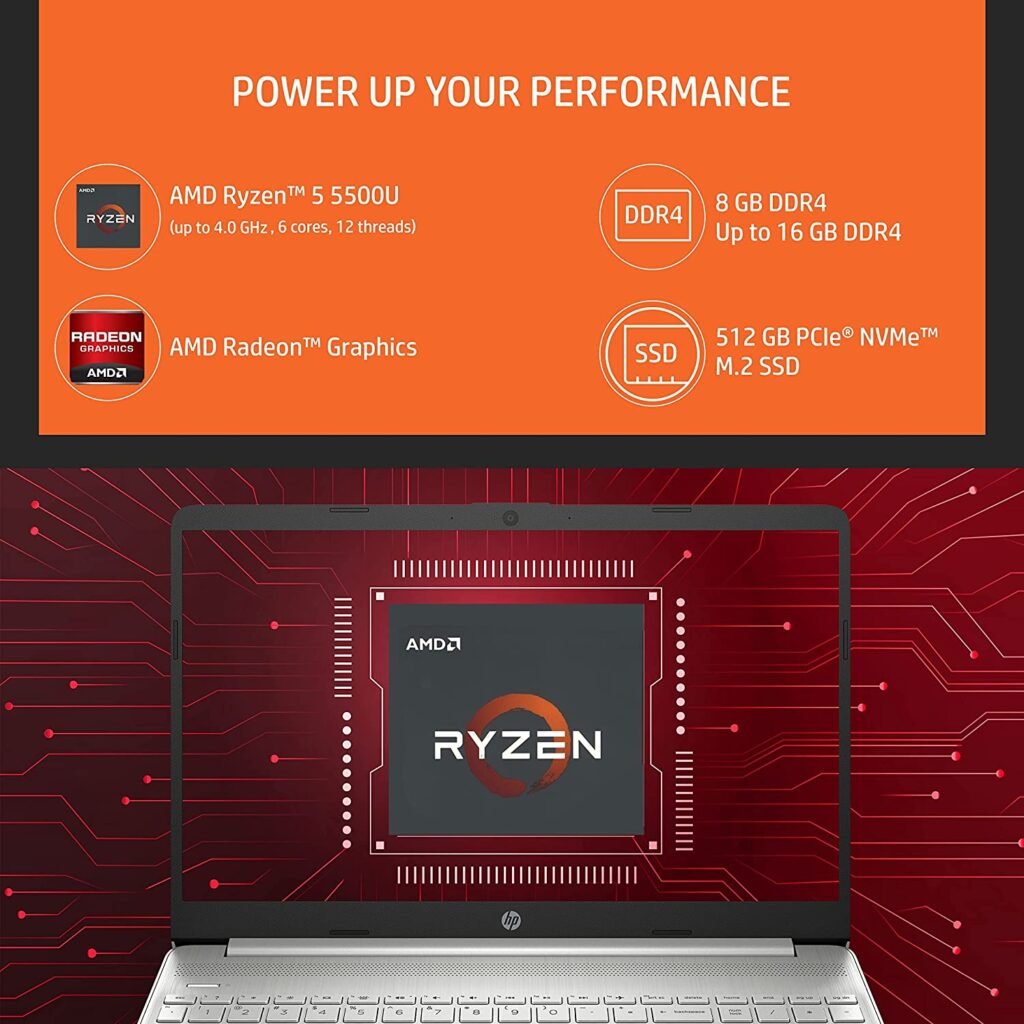 The HP 15s is also one of the finest AMD gaming laptops under Rs.50,000. It has a 6-Core/12-Thread AMD Ryzen 5 5500U CPU, which is based on AMD's "ZEN 2" architecture. It is combined with 6 AMD Radeon based Graphics cores clocked at 2.1 GHz with Max Turbo Boost Frequency Up to 4.0 GHz, which makes it extremely power-efficient like all SoCs from the AMD Ryzen 5000 family. Unlike other devices in this price range, the laptop might not be able to run contemporary AAA games at 60 frames per second, but its CPU is good for emulating or playing older AAA games.
RAM and storage
Due to its enormous 512GB SSD storage capacity, which increases its effectiveness and efficiency, you are welcome to save your games on this laptop and also enables you to store all your important data like photos, videos, documents, games, and more without any space restrictions and enjoy smooth operation. With 8 GB of DDR4-3200 MHz RAM, you may experience excellent performance without having to put an end to your entertainment.
Operating System and software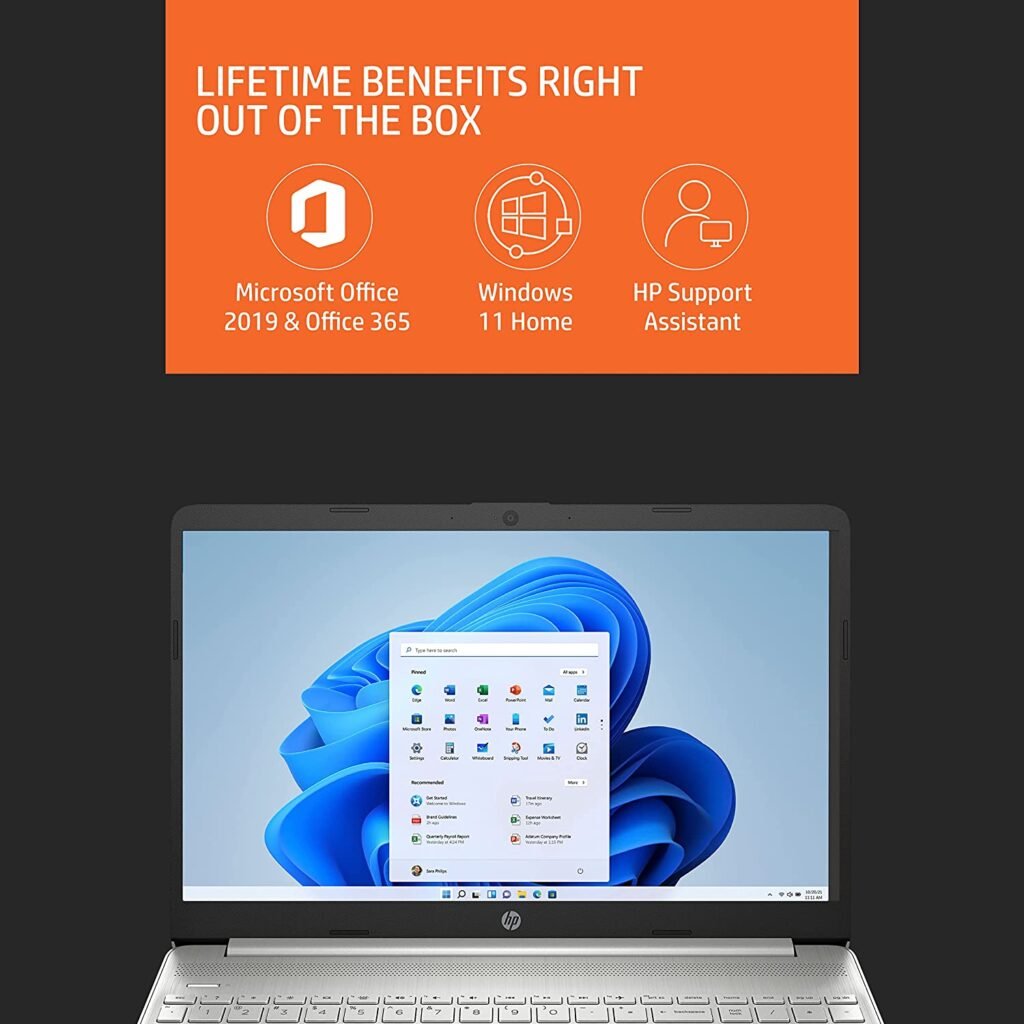 Enjoy Boost your computing experience with the HP 15s-eq2144AU Ryzen 5 Windows 11 Home Laptop, which includes the newest innovations for effective performance. You can do user-friendly tasks with the help of the loaded Microsoft office suite but you ned to activate it.
Others
You can work, watch, and remain connected all day long thanks to the prolonged battery life and HP fast charge technology. A built-in highly precise touchpad with multi-touch capabilities accelerates navigation and performance. According to HP, the laptop can operate for approximately 9 hours on a single charge and there is no possibility of battery swelling as claimed by HP. The battery is a 3-cell, 41 Wh Li-ion battery. According to the manufacturer, the laptop has support for fast charging and can charge to about 50% in 45 minutes. Bluetooth connectivity is endorsed.
The HP 15s Ryzen 5 laptop has 1 SuperSpeed USB Type-C port, 2 SuperSpeed USB Type-A 5Gps port, and a headphone/microphone combo and 1 HDMI port. It measures 359 x 242 x 18mm in dimension and weighs 1.69 kgs. It is available in a Natural Silver colour. The laptop includes a full-size island-style natural silver keyboard with a numeric keypad. It has an HP Imagepad with multi-touch gesture support and precision touchpad support. With its durable, full-length, and ergonomic Standard Notebook Keyboard
Webcam image quality is very average which is another negative point
HP 15s-eq2144AU Ryzen 5 Specs
AMD Ryzen 5 5500U Hexa-core Processor is designed for high performance.
512GB SSD storage for all of your files
15.6-Inch Full HD Display for stunning visuals
RAM of 8 GB DDR4-3200 MHz for a smooth user experience
Windows 11 Home Edition is a user-friendly operating system.
Price of HP 15s- Ryzen 5-5500U laptop: ₹. 44,900
Buy HP 15s Ryzen 5 Laptop from Amazon now