How to do Keyword Research? How to use Google Keyword Planner
Keyword Research, One of the most important task required when we talk about Digital Marketing or Search engine optimization. How to find the best keywords for your business? How to use Google Keyword planner? Is there any strategy to do so? This article covers everything about the topic.
Pre Requisites
Different Models of Marketing Digitally: To market a product or service digitally, one must know their audience. There is a difference between Social media marketing and Search engine Optimization & Marketing. Like the pull model of marketing, businesses try to promote the products or services to people they connect, with or without having the same interest. But in the case of Search Engine Optimization & Marketing, Businesses try to focus on a relevant audience because they have more chances to become our potential customer. This is like a push model approach where a business looks for audiences already looking for something.
Keywords: When we say Keywords, we focus on Search Engine Optimization and Marketing (SEO & SEM, although both are different). As in this model of digital marketing, a customer finds a business using the queries including certain terms, phrases, questions, or sentences. All of these queries are keywords. Search engines show the results for the queries in such a way that the user gets the relevant results.
Top of the page bid: Cost Per Click (CPC) conventionally, means the expected cost to get a click. Filters allow setting range for Minimum and Maximum value.
Types of Keywords
Keywords can be categorized into 3 main types:
Length Related

Broad or Short-Tail Keywords: Like 'JEE' which may have a huge search volume. Unlikely to convert less when used alone without few other types of words.
Long Tail Keywords: Also known as "Evergreen Phrases" because of higher chances of conversion as only interested audiences use them. For example: 'Solutions of last 3 year JEE Entrance Exam Papers'.
Other: Generally lie between the above two types i.e. the Long-tail and short-tail words. For example 'JEE Entrance Exam'.

Intent Related

Navigational: Searching for a particular website or webpage considered a navigational search. For example, the Navigational query for this website will be the name of this website i.e. 'computer service solutions'. Having a site with a business name gives businesses an advantage to at least have organic rankings for that particular term as people may exactly use the term and know a business already.
Informational: When a user wants information he/she search for terms like 'How to', 'what is', or many other things like 'Google search algorithms'. These queries may target broad or narrow sections but their conversion depends upon the quality of information being provided.
Transactional: The most important intent-based queries for businesses as they govern actions like purchase. Users already looking to buy something search for the transactional terms and every industry vertical may have different key terms. But most of them contain words like 'Best', 'Buy', 'Get it now', 'free shipping', etc. For Example, 'Buy Intel core i5 processor', 'Best books for JEE, Free shipping', etc.

Miscellaneous:

Geo-Targeting: Location or geography-based for local businesses.
LSI queries Latent Semantic Indexing, The search engine understands the semantic of what a user types to what he/she needs or wants in result pages like synonyms.
Others: Includes Negative keywords, Ad based like phrase match & Broad Match keywords.
What is keyword research?
For any business to find potential customers, it`s important to target the right section of people. To do so, one must know the queries related to a particular business or topic the customers use in order to produce content focusing on those terms. The keyword research encapsulates a complete process of identifying the popular terms & queries related to your business your target audience use.
Why Keyword Research is Important?
Because of the following reasons:
1. Keywords help to understand the intent of any user. One can get a better idea of what exactly a user wants. For example,
How to make money online legally?
Hacks to save money
How to get rich?
All the above terms are related to money but still are very different from each other.
Explanation:
Specifically target online ways which are legal in that specific country.
Making money and saving money aren't the same. To save money you must have some.
Now the definition of rich is different for almost everyone. People have their own assumptions and aspirations for money.
2. Helps to target potential customers. Keyword research gives a list of keyword people search for all types of actions like purchases, watching videos, listening podcasts, or even reading blogs. So from that list of keywords, identification of terms converting more becomes easier.
3. Helps to understand the type of content in demand. It is been said that Content is King but with time the saying has changed to "Content is Kingdom". Hence, key term identification plays an important role in improving the quality of content. It also provides content ideas related to trending topics.
How to do Keyword Research? Complete Process.
The step-by-step process with examples is given below:
Understand the business or client needs. The business-related terms and divide them into the categories listed above. It will help you to segregate your interests. For example, For a sports equipment manufacturing company, try to list all the equipment, the informational facts related to few types of equipment or a particular sport (for content development), talk to the business owner or manager to understand the jargons they use.
Divide them into any number of Verticals. For example, We have taken 3 verticals of two popular & trending sports in India and one daily need-based vertical i.e. Gym & Fitness.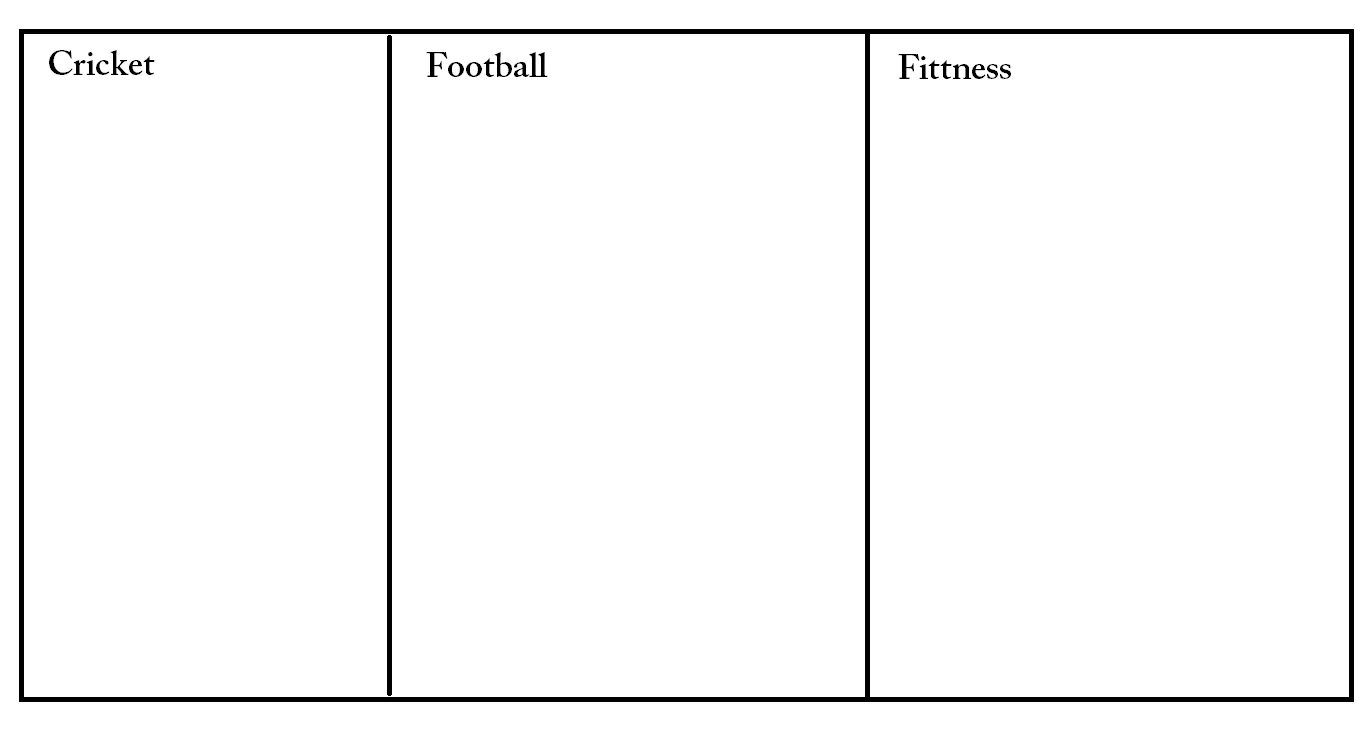 Brainstorm all the possible customer queries. Pick from the top 20 queries for each vector. Shortlist 10 queries from them in such a way that your set of terms which are popular, as well as terms which may not be as popular but they too, result in a purchase.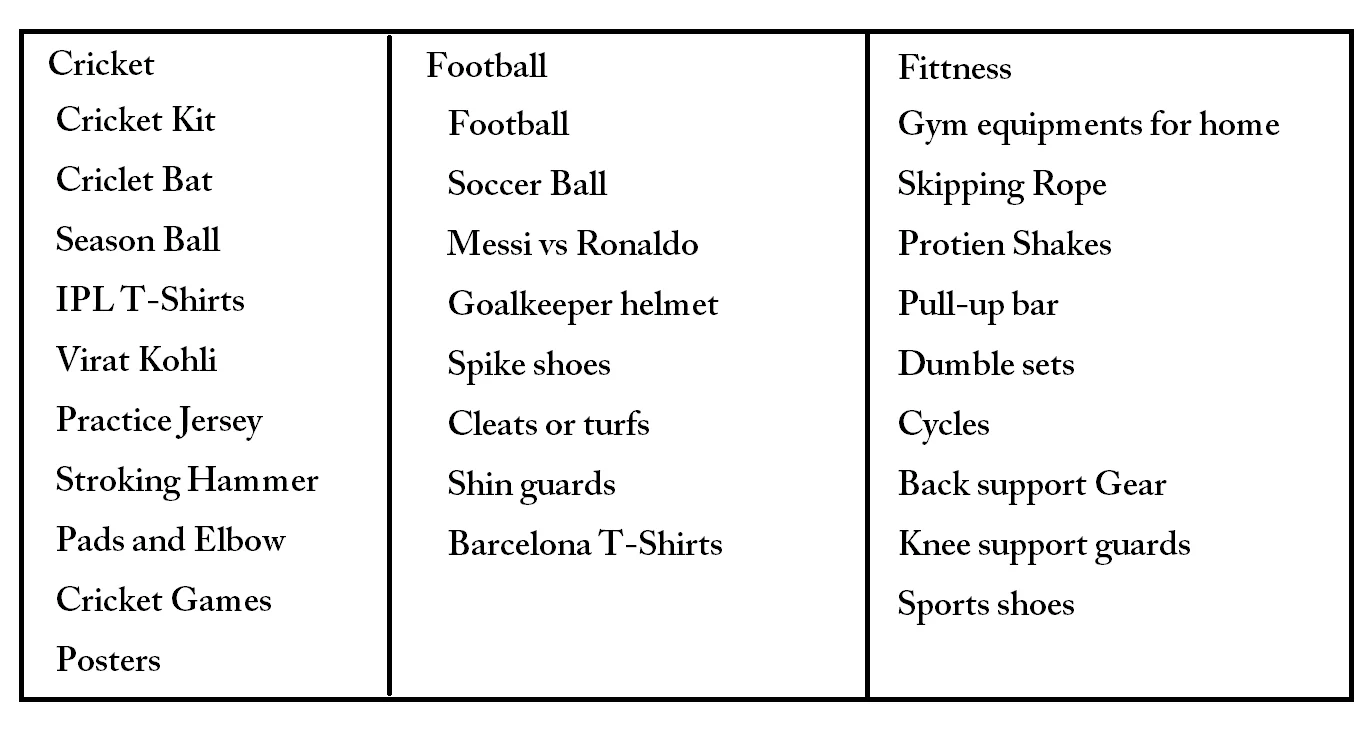 Now you have a list of items from your inventory, plan about the type of content you can give on your websites to promote the transactions for these items. For example, Blogging about trending sports events or personalities, podcast interviews, or anything related, streaming or videos, etc. You can get content ideas from your competitors. But make sure your content is better enough to provide 20% more value than your competitors.
Try to give better content from at least your local competitors. You can find them using Google maps. Check out their social media pages to know more about them.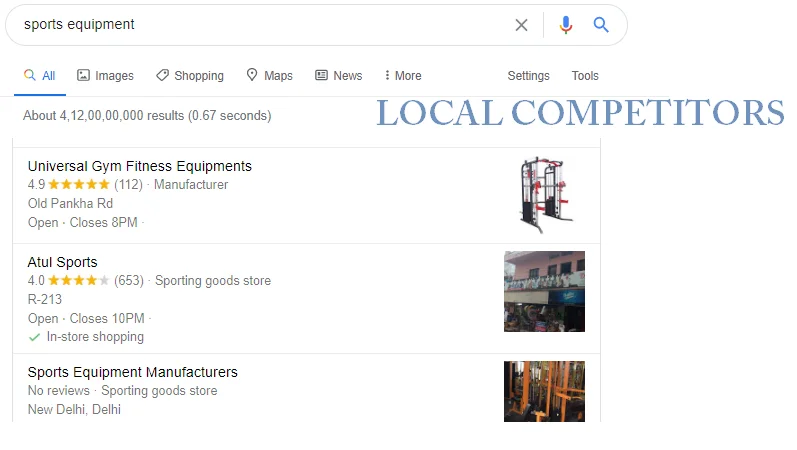 After checking out their content, create your known list of keywords for different categories and intents.
Now use Google to improve your keywords as shown in images below for a particular keyword 'cricket bat'.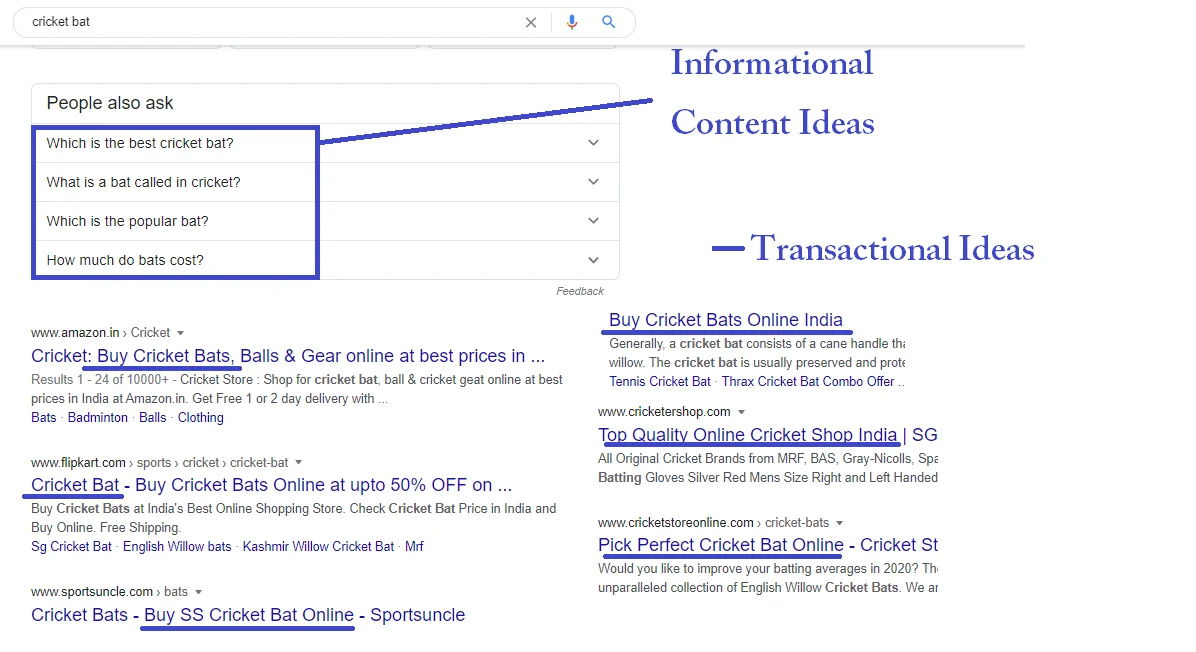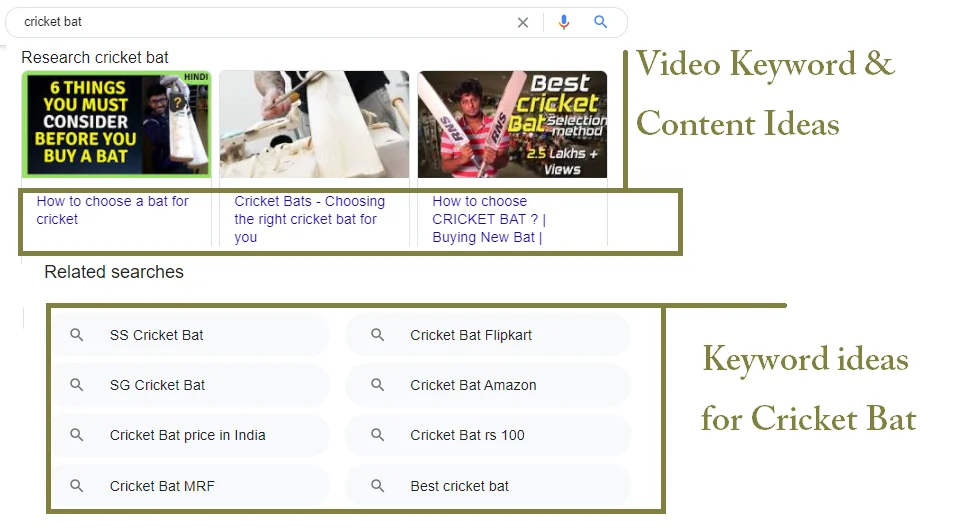 Prepare your own list of keywords with a good mix of short-tail terms, long-tail terms, Intent-based including Informational, Navigational, Transactional, and Geo-location based terms.
Best Free Tool for keyword research: Google Keyword Planner:
GKP is the best free tool for creating your list of keywords. So lets use it to get few keywords.
Steps
Type 'Google Keyword Planner' in your browser to search.
Follow the first link and when the result page loads, click on 'Go to Keyword Planner Button'.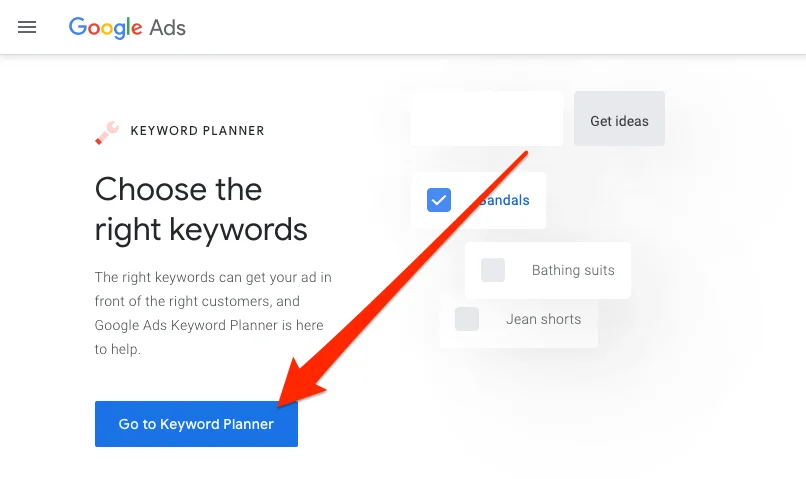 Choose an Ad account to continue with.
When you enter the GKP, you will see two options.
Discover new keywords
Get search volume & Forecast.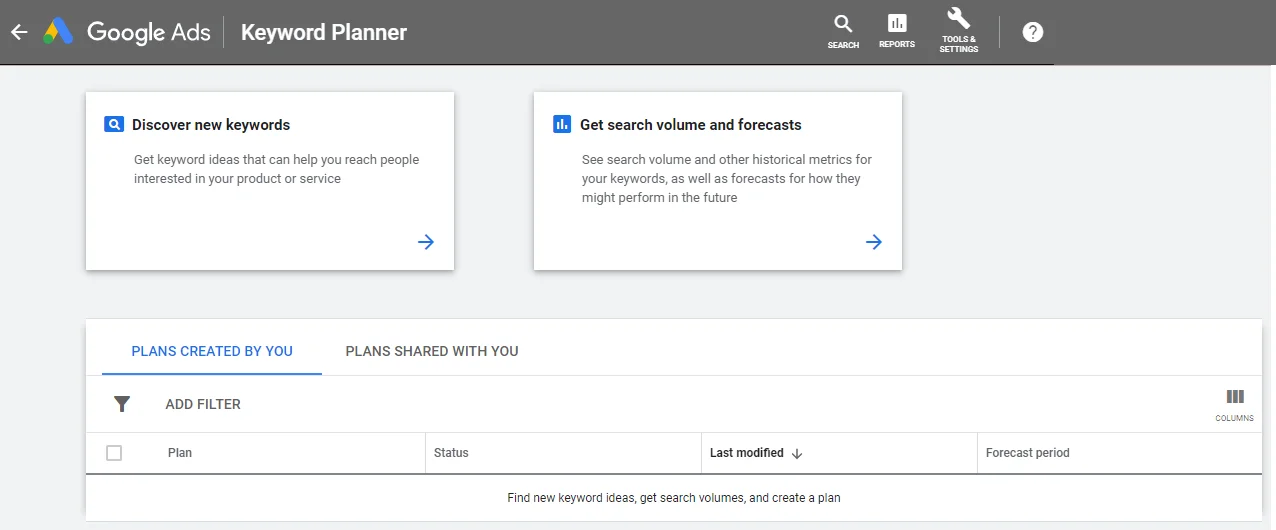 Basically we use GKP in that order. We first try to get some ideas and then their forecast.
Click on discover new keywords. Enter the products or services along with the location and click on Get results.
The results are shown for the queries we provided and the ideas related to them.
An important thing to understand about the results shown here, Average Monthly searches may hamper your expectations. Because these results aren't the exact numbers. For example, 'IPL' the term shows optimum impressions (Let's say 100K or more) during only 2 months in 12 months. But Google will show the average between (100K-1M) for those impressions. Or Google may show the highest or best search volume which may not be the exact result of a particular keyword.
Download the list of ideas if you want.
Now let us try to check the forecast of a few keywords. Directly check it by clicking on keywords in the sidebar or Select Get Search Volume and forecast this time after loading the keyword planner. From the results, you can choose keywords for ad campaigns as well.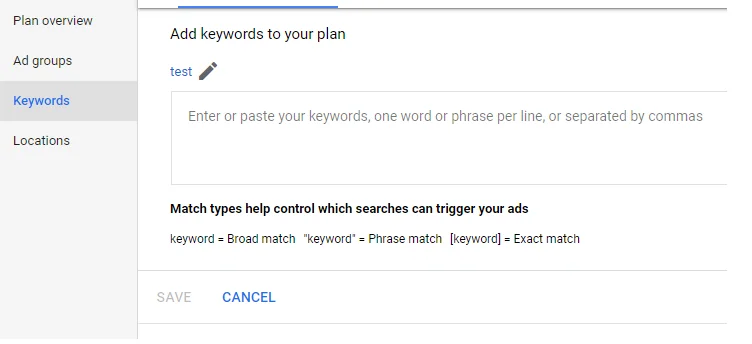 Every Business or digital marketer has their own strategy to choose keywords depending upon their goal and budget. Goals vary from increasing traffic, Getting more downloads to converting more. So I am not disclosing my own strategy to choose keywords because it may stop your mind from doing its own research and exploring or discovering its own strategy.
Hacks for GKP
There are few unknown or less popular hacks that can help you to get the best out of GKP. To know about them, Comment below about that. If we get a good response and comments from interested people, we will publish those hacks and other tools soon in our upcoming blogs.
Learn more about Technical SEO here