Best Laptops under Rs. 50000: Asus VivoBook 14 X415 Review
Looking to buy a new Laptop but confused between brands and configurations? Don't worry, we will be helping you to choose from the best laptops that suits your budget and requirement both. We are coming up with a blog series to help you find Best Laptop under Rs. 50000 and this is the first article of Best Laptop under Rs. 50000 for daily use series. We are reviewing Asus VivoBook 14. We have also reviewed HP 15S Ryzen 5 Laptop in Best Laptop under Rs. 50000 series.
Price of Asus VivoBook 14 X415 i5 Laptop: ₹. 49,900
Overall Review and Rating of Asus VivoBook 14 X415: 8.2/10
Slim Design, Good Performance with High storage at Competitive Price
Asus claims to have launched a smallest 14-inch Ultrabook with VivoBook Series and VivoBook 14 is one of the powerful laptops from that series with a slim design and multiple colour options. It is regarded as one of the best budget laptops for everyday use.
Processor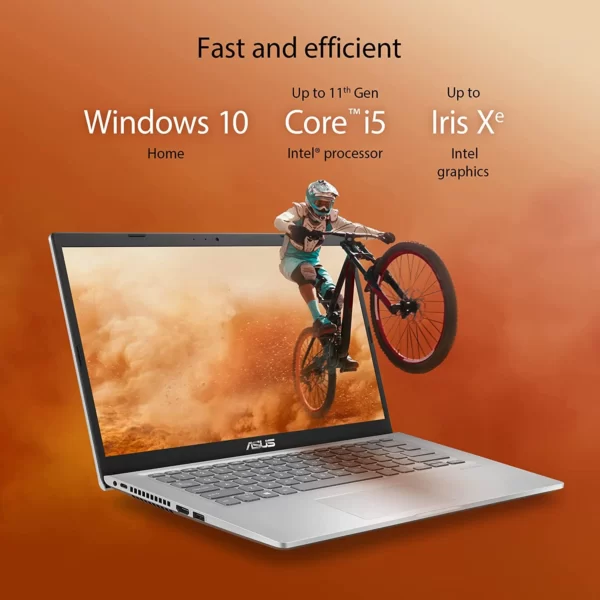 The best part of choosing Asus VivoBook 14 is that it comes with 11th Generation Intel Core i5 1135G7 processor with a base speed of 2.4 GHz that can go upto 4.2 GHz in less than Rs. 50k. The 1135G7 Intel core i5 processor comes with 4 computing cores. Most of the laptops in this budget are coming with only Intel Core i3 processors which makes Asus VivoBook 14 X415EA-EB572TS a winner in processor.
The Iris XE graphics in this chipset having a 12 Gen based architecture are high speed graphics that are capable of handling all the daily home or office based tasks without any lag.
If you are looking for a gaming laptop or something that can help in animation or high graphics video editing then this Asus ViviBook 14 is not for you.
RAM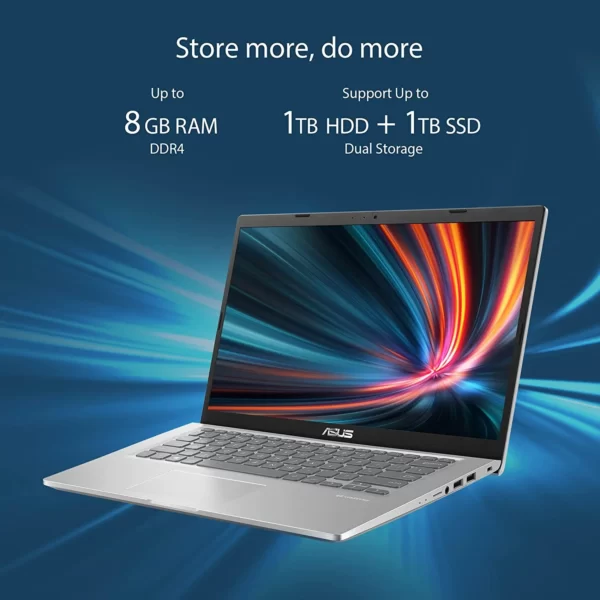 The laptop comes with the 8GB RAM. 4GB is on-board and 4GB is S SO-DIMM (Small Outline-Dual Inline Memory Module) DDR4. SO-DIMM are a bit smaller than usual DIMM cards used in RAM and have an optimized performance. The laptop supports upto 12GB RAM which makes it a good to have product in terms of scalability. But laptops in this range supports upto 16GB so this might be a minus point for ASUS VivoBook 14 X415EA-EB572TS
Storage
One of the key features of this VivoBook 14 series laptop is the storage capacity. It comes with a superfast SSD of 256 GB along with a 1TB Hard Drive that makes it a really good laptop. The SSD makes sure the work does not slow down. 1 TB hard disk allows the user to have all the data saved and stored in a safeplace which is accessible at anytime. One minus point could be that Hard disk is 5400 RPM which means 5400 rotations per minute and it is lower than some of the most popular hard drives having 7200 RPM, but with the 256 GB SSD, this is not a minus point at all.
This lethal combination of SSD and HDD that has Optane-enabled technology has a strong advantage. Generally SSDs have a short life and it easily get damaged through various factors like overheating. At that point, data recovery becomes very difficult and even impossible in some of the SSDs like that of Samsung because their storage cells decay every time a user writes or erases some data. In such a case, data stored in a 1 TB Hard disk is really very helpful. Many laptops only come with either SSD only or HDD only but having both makes Asus VivoBook 14 X415EA-EB572TS fast and reliable.
Display
This ViviBook 14 X415 comes with a 14-inch display with an aspect ratio of 16:9 at a decent resolution of 1920×1080 pixel. The pixels per inches supported by this laptop is 157 PPI that gives a crisp display. One good part is that it has an Anti-Glare enabled display like most of the laptops in this budget which does less harm to the eyes.
Operating System & Software
This laptop comes with an original Microsoft Windows 10 pre-installed with lifetime validity and upgradable to windows 11 in just few clicks. You can upgrade it to windows 11 by yourself in just few minutes.
Along with Operating system, Microsoft Office Home & Student 2019 is also pre-installed for hassle-free office and small-business documentation and tasks.
Others
Like most of the laptops of this generation, Asus VivoBook 14 X415 has a 802.11ac dual band Wi-Fi, in-built microphone, 1X 1.4 HDMI 1.4 port, 1x 3.5 mm Jack for audio output, 1x USB 3.2 type A & 1x Type C and a USB 2.0 port along with a micro-SD card reader as complementary.
The Brand promises 6-hour battery life which generally lasts for 4 to 6 hours based on what the user is doing. The weight of 1.6 Kg only is a plus point making it a light-weight compact and easy to carry laptop.
Talking about weakness, the only thing that could have been better is the audio output from built-in speaker and VGA webcam. Webcam and audio quality are average. And you don't get a privacy shutter on webcam. So it is advisable to cover it when not in use.
Key Specs of Vivobook 14 X415 by Asus
CPU: Intel 11th Gen core i5
Graphics: Iris XE
RAM: 8GB
SSD: 256 GB
Hard Disk: 1TB
Screensize: 14 inch
OS: Windows 11
Price of Asus VivoBook 14 X415 ₹. 49,900
Buy Asus VivoBook 14 X415 online from Amazon now