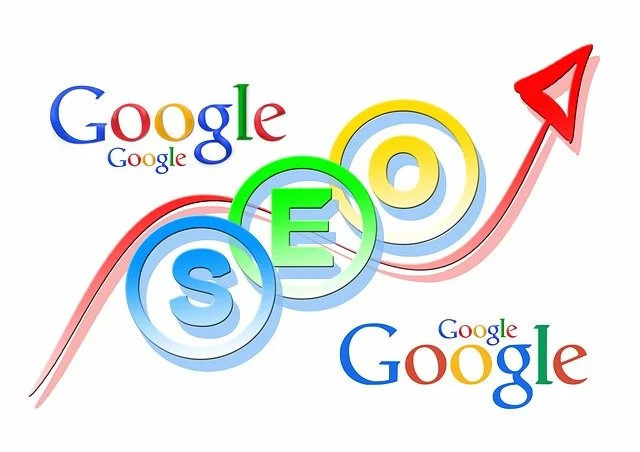 Free SEO Case study: How I generated 300k Impressions per month for a client
MBBS Abroad Consultancy & Medical Exam Preparation

Client Industry

Key learnings from my previous SEO project that I implemented here
1. Long form of content works 12x better than the short form of content
2. Sticking to basics when it comes to content writing and development
3. Limited Offpage SEO in the first 3 months and should not start immediately after the new website is made launched
SEO tools used throughout the tenure
AHREF
SEMrush (Shared tools package Rs. 999 per month)
SEOSiteCheckup (1 free check every 24 hours)
SiteGuru (15 days free trial)
SmallSEOTools (Free)
Yoast SEO (Free WordPress Plugin)
CDN (Free CDN for 500 images)
Google Keyword Planner (Free)
Keywords Everywhere (Free Chrome Extension)
Luck and Timing (Covid 3rd Wave, Russia vs Ukraine, Announcement of NEXT exam)
Started the SEO on 17 September 2021 and handled it till 5 February 2022

Tenure of SEO Work
How SEO was done for this client? Steps & Methodology followed during the process
"Previously the client had a traditional PHP website with a very poor UI, I suggested them to have a new website before starting SEO and fortunately because of my experience, they asked me for the same".
It took one and half months to have such a website with all the functionalities and WordPress was preferred as few technicalities are already managed when it comes to technical SEO.
We used the fastest and affordable web hosting at just Rs. 3.6k per year and a free CDN for images on the website. CDN helps in loading a website fast.
Since the website was developed from scratch, it followed all the major Google guidelines. Most of the technical requirements were already fulfilled like sitemap, quick loading time, WEBP images, GZIP compression, minified CSS & JavaScript, etc
Initial Challenge
Since the client wanted to have the website on their subdirectory that was CollegeClue/medical as they wanted to use the primary domain for a different purpose, the URL was a bit longer
They were using it with www versions which again means a long URL for at least a homepage
At that time the version had some amount of traffic as well, it was around 12000 impressions per month.
The first thing changing it to non-www versions and now it was reconnected with search Console from scratch, It helped to delete all the low content and spammy pages present in the previous version of website.
Initial Findings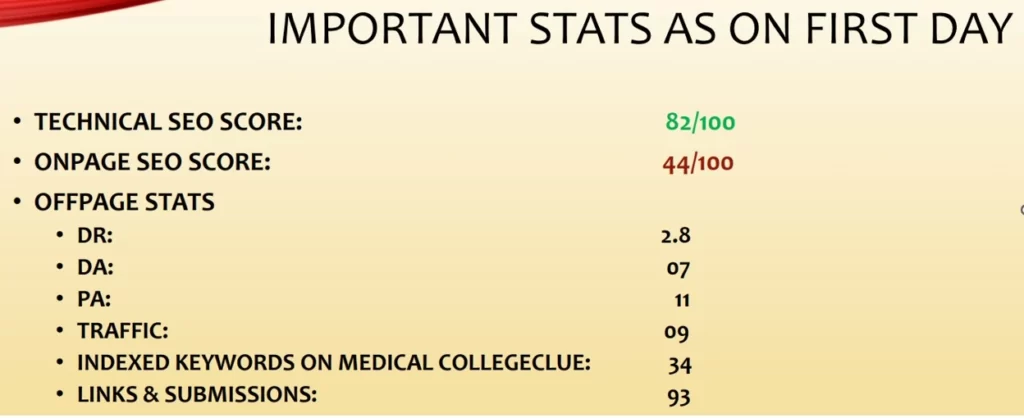 Content & On-Page SEO Strategy
They were publishing regular short forms of content ranging from 300-500 words on the website which later was changed from publishing strategy from 300-500 words blog and content daily to 2000-3000 words articles weekly.
Additionally, the content writing strategy was also changed as per the Yoast SEO guidelines for Google that simplifying readability and relevance. And I was doing the Onpage SEO of the website simultaneously.
Instead of asking the content writer to embed keywords forcefully, complete freehand was given. The idea was to go in-depth of the topic which may require extra days for research and time but it was clear that long format unique content will be produced.
The embedding of keywords in headings or content was done post-writing during SEO only. It helped to balance the spread across headings and content and have multiple interrelated contexts of the subject. The practice of contextual division helps in targeting more related keywords.
Natural internal linking and external linking.

The main focus terms were used in Meta Descriptions, Heading 3s and title tags.
The impressions started increasing and a huge number of new terms were indexed by Google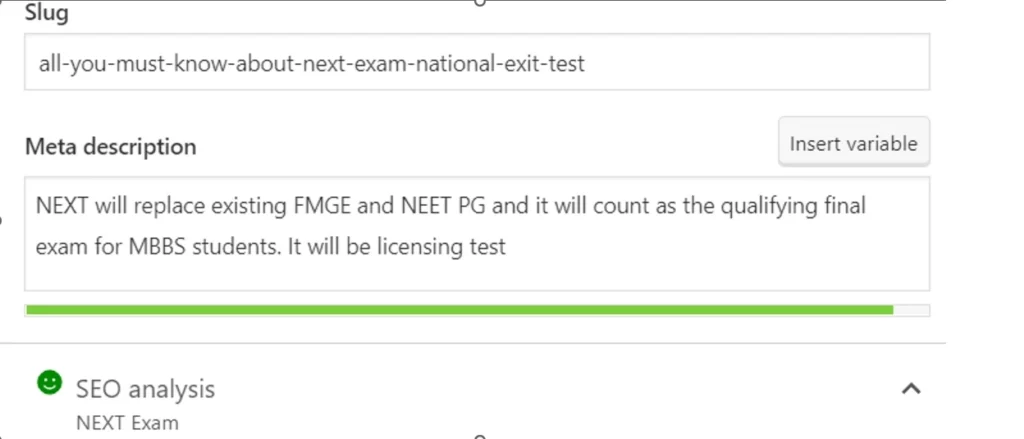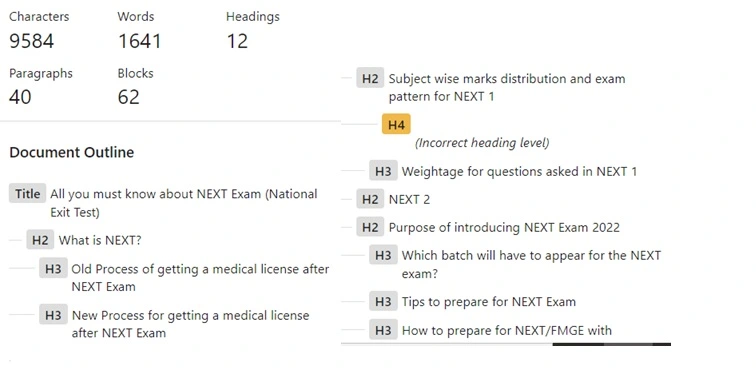 Off-Page SEO Strategy
Additionally with content, in the 3rd month after crating more than 97 pages and putting content on them, I started OffPage SEO of the website with 20 Backlinks a week with 2 Quora submissions and same approach of content publishing.
Submissions were happening on websites like Directory submissions for digital marketing
In the 4th week of the 2nd month, I have done all the technical and On-Page tasks for pages present till then
The Social Media strategy was redesigned for SEO.
We published 5 Blogs per month on the website and 10 posts across all social media platforms. 5 posts of those 10 were acting as the backlinks to the blog posts
1 email marketing campaign was started targeting 35 MBBS Aspirants per month
1 Medium article per month was published
2 Infographics per month
2 YouTube videos per month were uploaded
Role of Timing and Luck
The timing of the NEXT Exam post played a very important role as just after the announcement from concerned authorities and news from news channels, the content team did their research, and got all the information from all the related press releases, notifications and other documents and came up with the detailed content. We were the first publisher on this with all the details and it really helped to achieve a sudden massive growth in impressions
In January, the third wave came again which affected the client's business badly again, international travel was again affected and flights got banned. And since 85% of the client's collaborations were with Ukraine and Russia-based colleges everything was stopped due to war. This was the only reason that client didn't continue with SEO after February but the work was so effective that it is still growing automatically now. When admissions were affected, conversion dropped drastically but traffic on the website increased by 117% because of the tension and curiosity among MBBS aspirants.